Hi CG,
Looking at selling my old rig as I don't use it anymore. It has served me well and even though it is 3 years old, it is an absolute beast. The only upgrade I would consider making is to put in an SSD. This thing cost me a lot when I first purchased it and I don't expect anywhere near the return, however it doesn't struggle to play BF3 in the slightest. Everything is in great condition and I will give it a bit of a clean up before I sell.
Specs:
CPU: Intel Q9450 @ 2.66Ghz (Quad core)
RAM: GSkill DDR3 1333Mhz, 4GB
GPU: Gainward Golden Sample 4870x2 Goes Like Hell edition.
PSU: 850W Enermax Galaxy semi-modular PSU. (80 plus rating did not exist back then, this was a top of the line PSU)
MOBO: Asus Rampage Extreme (extremely good motherboard)
CPUCOOL: Noctua NH-U12P
DVD: Standard DVD drive
CASE: Fractal Design Define R3 Black
SOUNDCARD: Creative SupremeFX XFi (came with Mobo, linked below)
HDD: 640GB WD Blue HDD, Sata 2.
SSD: NONE (recommended upgrade in future) (Can upgrade to Intel 330 60GB for $90)
Also included in bundle:
MOUSE: Razer Lachesis
KBRD: Razer Lycosa
WINDOWS: Windows 7 Home Premium DVD and key, legitimate copy, pre-installed for you. (installed on SSD if you choose to upgrade, otherwise on HDD)
Photos: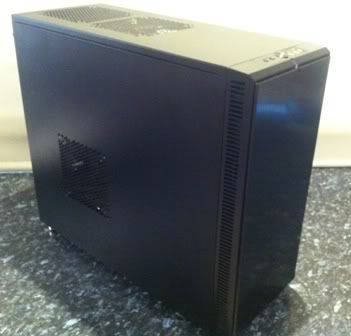 I will post pics of the inside at request as it requires me tidying it up a bit.
Extra links:
Mobo link for soundcard/mobo specs:
www.asus.com/Motherboards/Intel_Socket_775/Rampage_Extreme/#specifications
SSD I would put in (cheapest I can buy from my supplier):
www.intel.com/content/www/us/en/solid-state-drives/solid-state-drives-330-series.html
Looking for $650.00 plus shipping (will drop off if you live in Adelaide). I will consider offers. I can put in an SSD (Intel 330 60GB) for an extra $90.