In the lead up to the CyberGamer Pro leagues and an increased interest in Heroes of Newerth, and possibly to keep up with the excellent content from propane and friends; I decided it would be a great opportunity to sit down and grab an interview with arguably one of the world's best Starcraft players, and popular global HoN identity, AngryTestie!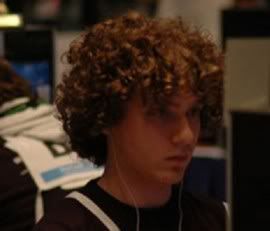 Name:
Nick 'AngryTestie' Perentesis
Age:
26
Location:
Canada
Team:
SK Gaming
Achievements:
Has played and been champion of countless tournaments for more than a decade and former #1 ranked Starcraft Broodwar player on the Gosugamers Player Ranking as well as the worlds #1 2v2 player of all time in Starcraft. Has set multiple records in every ladder played in, such as longest win streak in a ladder & longest win streak in 2v2, longest time holding #1 etc. Some of the large scale lan events attended are at least 4 Canadian WCG Finals & WCG Grand Finals, 2 WCG Pan-American Championships, IEST, PGL, 2 Blizzcon appearance, and Blizzard's WWI tournament in Korea.
Sourced From:
http://www.justin.tv/angrytestie
Hi Testie, thanks for your time!
Tell me a little bit about yourself.
Hey my name is Nick Perentesis, I'm currently 26 years old and have been a professional gamer for over half a decade. I've played competitive games since I was at a young age on Kali playing Descent2 / Warcraft 2, moved on to Starcraft, then Starcraft Brood War where I had great success. I am a bit too busy for hobbies at the moment as I'm playing HoN 24/7 and casually playing SC2 from time to time.
You're a well-respected player in the HoN global scene, how long have you been playing hon competitively and as an ex-Starcraft high tier player, what first attracted you to HoN?
I've been playing HoN competitively since I began in September 2009? Not sure when I started. The minute I first picked up the game I started playing in team [5] when they noticed I was online and playing. Within my first month or two of playing I was part of the [5] vs [WHP] rivalry. As for what first attracted me to HoN... I'd have to say it was just my friend telling me HoN was better than DOTA, which I refused for a loooong time. Then I finally played, and the whole no leavers in games + reconnect + smoother game engine sealed the deal really. I played garena DOTA for 2 years and it would take 2 hours to get a single game with no leavers sometimes, and clan wars were extremely annoying with pausing and saving and lag issues.
What would your ideal five hero competitive line-up consist of? And who is your favourite hero?
I'm a bit crazy on lineups, I think I could fit every hero into the line-up given the situation. I know what the safest and "best" options are, but sometimes you can throw some real curve balls out there and run some hilarious line-ups on paper that work great in game. Right now my ideal line-up would be one to counter the current play style that everyone runs to attempt to free farm a carry in their tri lane. i.e. a pushing style with pollywog/wild soul etc. I can't really say I have a favourite hero tbh, I enjoy playing all hero's and all roles generally. Though yes, I do solo mid or semi-carry 99% of the time on a strong hero.
Every now and again players report having an 'off day' no matter how good they are, if you find yourself on a losing streak and things just aren't going your way, what strategies do you employ to pick yourself up and turn your luck around?
It all depends on how you face it. Every competitive player in any game or sport will have an off day. Consistency is the key. I have my own methods of generally picking my game up if it's off, and it really is just a matter of the mind among other factors.
Did you want to mention any methods of picking up your game? Or are they a secret?
Well, they're obviously secret. ;o
There's been some major changes to the game recently, shop removal, map and hero changes and additions, do you think this is affecting competitive play and/or general HoN play?
Every change affects the game, and each change has affected competitive play. From introducing new heroes to buffing X item (alchemist bones in particular has been called upon for a universal nerf among competitive players). As it is making the game more camp oriented as each team sections off their half of the map, and it is up to one side to take a risk to break the stale mate.
On the topic of asking for change, what changes to the game would you personally like to see implemented to improve the current gameplay and why?
ATM it's a little too late for me to talk about every change, so really I'll just mention the alchemist bones again. I always liked it as a luxury item with a great payoff but came at a risk. At the moment there isn't enough risk involved in the item and it's become standard or core. Otherwise there is always the Kongor issue, as hellbourne teleport to their second tower and can immediately magmus or behe ult in, whereas legion teleport to their second tower, and have a long walk ahead. It has been improved, but it's still on one side of the map. There's a lot more that needs discussion but those are generally the two biggest that come up at the moment.
HoN's starting to see the emergence of a few Australian clans and players (i.e. Fray, endzone ), what's your view on this? Considering Australia hasn't really had too much involvement in competitive HoN in the past.
It's always great to have more players to deepen the talent pool in the competitive scene. Though, I'm going to be blunt that I'm not remotely interested in splitting games on australian servers and then them having to play on USW afterwards etc. Lag sucks for everyone and we all have to deal with it, but I enjoy dealing with it less often.
I'm sure our Aussie teams will love beating you guys with or without the 200 ping
Good to see we're welcomed though!
Haha, yeah!
Obviously players don't just achieve that great teamwork and synergy that teams like SK, MSI and duskbin have.. right away. What do you think helps to overcome these early stages of a new roster and to begin playing as a solid team?
Oh there's a lot of issues there to work on. From finding the right players, having the right mindset, having the talent / drive / experience to back it up and so on.
So lots of practice, practice and more practice!?
That never hurts
The CyberGamer Pro league is about to kick off over the next few weeks, have you got any advice or words of wisdom for these aspiring professional teams?
I'll let them figure it out, my only real advice is try not to rage or be a jerk. It will improve your teams performance.
Thanks for the interview Testie, I know you've had a long day. Do you have any last comments or shoutouts?
Nah, I'm too tired for that ;p But goodluck to the CyberGamer teams!
If you want to watch testie play he has a live stream featured here on cybergamer at
www.cybergamer.com.au/stream/52
or streamed directly at
http://www.justin.tv/angrytestie
Testie also offers educational sessions and coaching for HoN, more details can be found on is stream link above.
I hope you enjoyed reading, and hopefully this helps bring out the competitive nature in all of you HoN CGp teams, I believe you're all capable of playing in the big leagues!
As Testie said, goodluck with the upcoming season!
Ryshek.