Hey all basically making a thread for everyone to contribute their thoughts about the lan and post any
photos
they have of it!
For the following share your opinions and your thoughts for:


Awards for MVP at the LAN, best character, most underrated player, nicest bloke and anything else you want to add.

For me:

Highlights

In my opinion:
Awards

MVP:
From what i saw Renzy was tearing nips up for malice and surely influenced on a few match outcomes for his team!
Most underrated:
Mitch lad was consistently pulling great shots with his M16 holo and always raping for his team fighting mongooses
Best Character:
Goosejuice was definitely funniest bloke there cant wait to see the malice team photos LMAO

Nicest bloke:
Fightclub was hands down nicest bloke at the lan! He was told at the minute he arrived by Last Rites that they werent going, but stayed was of great favor in lending Toxic his headset and shout casting the live stream for the finals!


Highlights


Empathy losing 3-0 to NXS in search on terminal and coming back to win 4-3

Goose's Semtex stick and double kill on a two fray players when they had the flag

Grunt Rebellion playing for empathy and raping without a headset

The constant raging from the halo geeks across from us lmao

KAE going to 10 overtimes (correct me if im wrong) with icrew

KAE beating icrew eventually and then taking KL to numerous overtimes

Conclusion
Firstly congrats to Malice winning the comp! They played hard and so did their competitors Fray.
The lan was a success and was definitely worth the effort of coming! I for one would certainly attend the next in Sydney and may even consider road tripping it up to Brisbane for the next ACL LAN. It rolled out smoothly and was a hell of a time, but it this was only achieved because of the never ending effort the staff put in! Vanzr and Tezza worked their asses off to ensure this would be a good day and it was! So thanks guys!
Photos
Colonel Don with his monitor being held by a clamp LMAO
Adam *ToXiiC* and iJames on the left and empathy packing up..LOL at the cables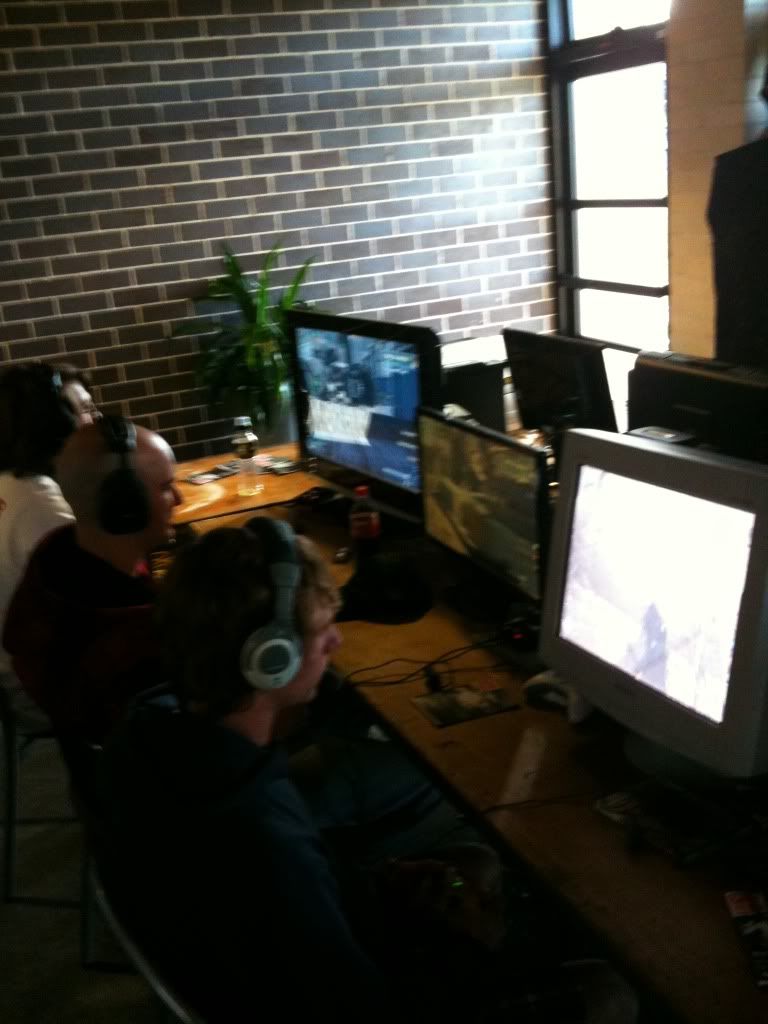 Hillzy with the pro setup! followed by Gomer and Duke
Donkeys dashboard background.. "I was just stretching" *quote*
POST YOUR PICS!!